ALASKA IS GETTING CLOSER!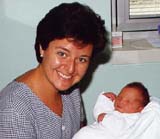 To honor my godson, Peter Miklavcic, and his courage in battling leukemia, I have joined The Leukemia & Lymphoma Society's Team in Training program. I am preparing to walk the Midnight Sun Marathon (26.2 miles) in Anchorage, Alaska on June 21, 2003. I must finish it in 8 hours!
Many of you know Peter and his family. Peterís mother, Pam Riley Miklavic was my college roommate. Pam walked a marathon with Team in Training in Dublin, Ireland in October 2001. This year, it is my turn and I am very excited about the challenge.
It is now mid-April and I have just about two more months to prepare for this event. I have walked throughout beautiful Boulder, CO and have also

had the opportunity to walk in Monterey, CA. At the end of May, I will walk in MA (around the Mount Holyoke campus and also my old stomping grounds along the Charles River in Boston.) Thus far, I have completed about 125 miles, and expect this number to increase rapidly as the duration of my training walks is also quickly lengthening. By the end, I will be out there 5-6 hours on a Saturday morning. Anyone care to join me?
Thanks to many supportive family members and friends, I am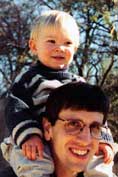 comfortably over the fundraising goal (click on Fundraising Update button to see the latest figure). I am continuing to collect funds for the Leukemia Society and have a final deadline for submitting checks/credit card numbers of June 6, 2003. If we are able to raise 2X the original goal of $4,600, then Peterís godfather, Pete McClure can be added on as an official participant. Regardless, Pete will be walking the marathon with me.
If you have any questions, please contact me at apmcc@flash.net. Comments and words of encouragement are welcome!
Thank you!
Alecia McClure